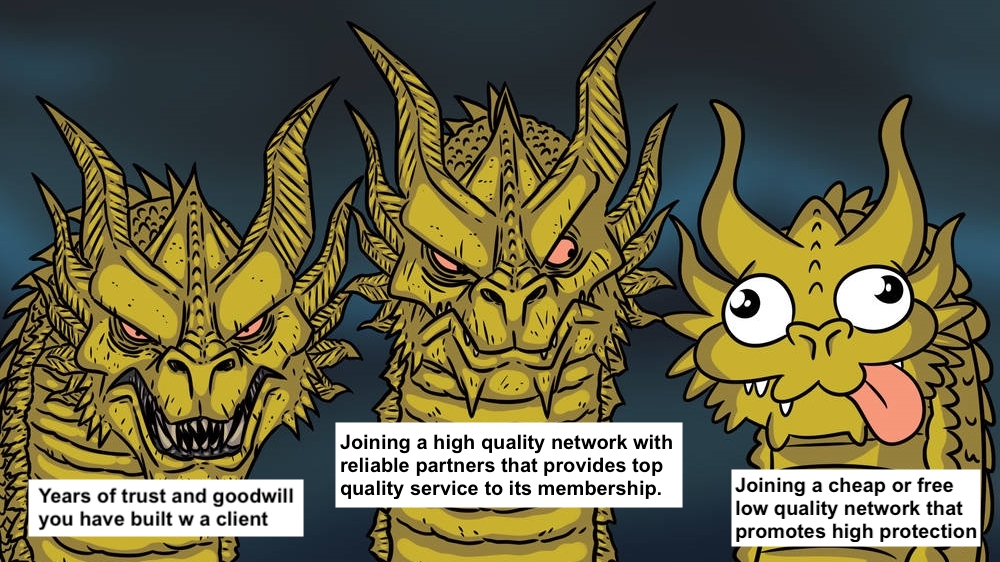 FINANCIAL PROTECTION VS QUALITY IN FORWARDER NETWORKS
When it comes to joining freight forwarding networks, a big concern is the amount of financial protection that is offered. This ranges a great deal from $0-$100,000, receivables protection vs. bankruptcy/insolvency protection, and different processes for accessing the funds altogether.
Many independent freight forwarders think that the higher protection offered by a forwarding network, the better. In theory, the higher the protection the better off and more protection you have from your forwarding network, right?
We disagree. We don't offer the highest protection compared to other frieght networks, but we've never needed to increase it because we haven't needed to.
The best protection for your company comes before resorting to being paid out by a Financial Protection Fund.
There are a few key points to consider:

1: Quality Partners
Joining a freight forwarding network should be about getting connected to reliable and quality partners. If a forwarder network is broadcasting how high their payment protection is, what does this say about the faith they have in their members to provide good service? Ideally, you want to join a forwarder network to acquire a trusted network of agents, not just a safety net when things go wrong.
2: The Cost of Losing A Client
Rather than focus on the cost or amount of protection, perhaps a better question is: What is the cost of losing a client?
High rates of protection may mean lower quality members. Lower quality members mean potential client problems. The cost of losing clients dwarfs the marginal price differences between frieght forwarding networks and the amount of protection they offer.
When a forwarding network charges nothing, or next to nothing, what does that tell you about how much they value what they are offering? What level of commitment does that demand of the members in the network? What about the age-old truth: You get what you paid for?
3: Getting Paid
What do you know about the forwarding network's track record to pay claims on a timely basis? You may be drawn in at first by a robust protection program, but what use is it if there is a lengthy payout process, or you find yourself repeatedly following up with the network to review or pay your claim?
4: Is the Forwarder Network Too Big?
Before you make the decision to join a forwarding network based on financial protection, consider first the culture of the forwarding network. Do they prioritize a higher quality or a higher protection? If they talk about quality, what specifically can they point to that supports that statement? For instance, our groups have a quality feedback tool built right into our directory. Members are able to rate and review each other based on their service, which remains on their profiles, raising accountability and commitment to great quality service.
Is the freight forwarding network so large that you couldn't possibly have close relationships with all their members? Is the forwarding network so large that you might not be able to expect good, devoted customer service and attention, especially when things start to go wrong?
At the GLOBALINK and GLOBAL VALUE networks, we believe in keeping our freight forwarding network limited to a smaller, higher quality group of closely connected partners. We take pride in our relationships with our members and bring devoted service to every member in our group. The cheaper the membership fee is, the less resources that network has to support you, it's just common sense.
For 20 years, we have consistently proven we can increase new business for independent freight forwarders with custom sales tools and programs. When it comes to international freight forwarding, we believe good relationships with good companies builds great business!
Interested in learning more? Email willsiemens@glnk.com or click here.
Want to read more interesting posts about freight forwarding? We recently wrote about CLIENT ACQUISITION COST FOR FREIGHT FORWARDERS and THE ECONOMICS OF SUCCESS IN AGENCY SALES???????.